CMAC Archive of Announcements and News (2011 and earlier)
<!Dojo News starts here.>

Dojo Announcements
April 2011
Amelia Guttentag is recognized by the Duke TIP program - on the TIP website, click on her picture on the left to see her story. Congratulations, Amelia!
March 2011
Congratulations for completing the recent Kobudo test!
L-R: David Henshall - Nikyu, Mike Green - Yonkyu, Kevin Gurganus - Sandan, Bill Harmon - Shodan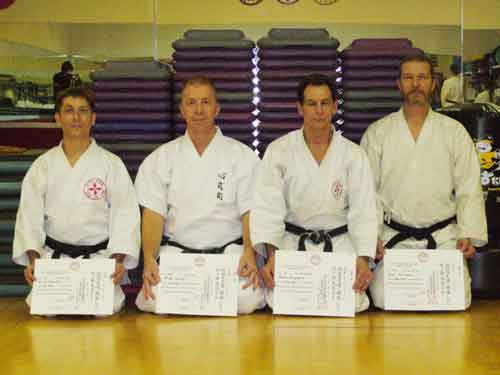 February 2011

Participants of the 2011 Embu Taikai at CMAC in honor of the late Akamine Eisuke Hanshi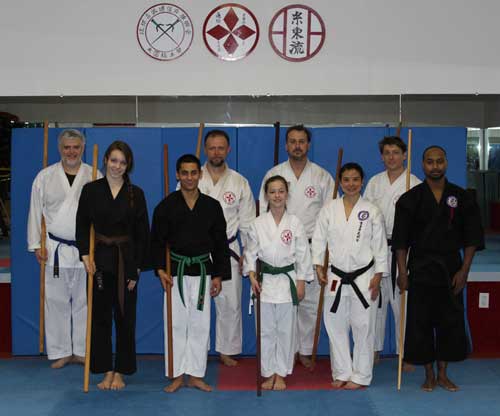 2011 Embu Taikai in Satellite Beach, Florida, sponsored by Sensei Steve Kabboord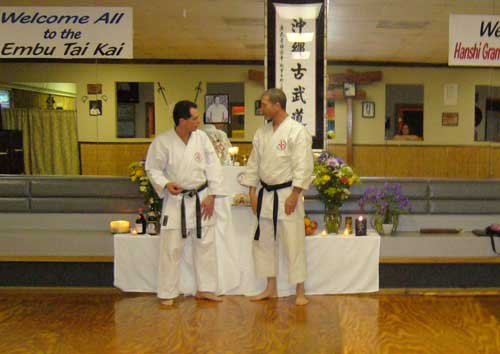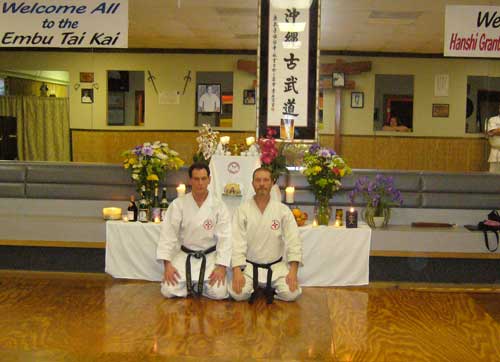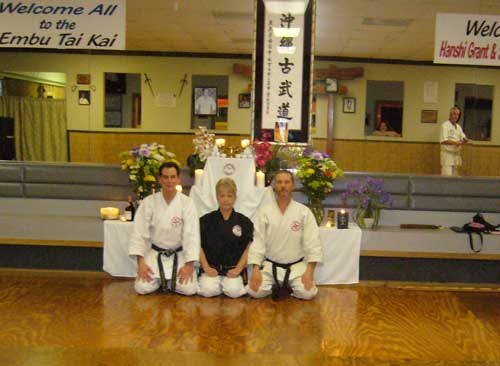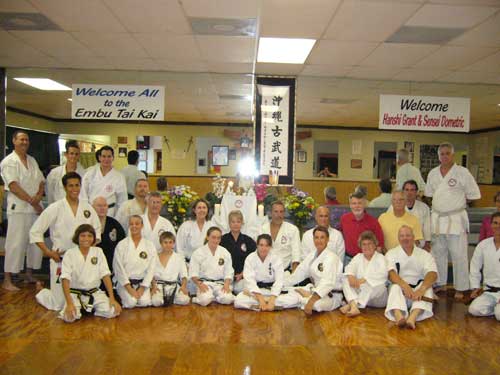 December 2010
In loving honor and memory of Randy Thresher! Student of Carolina Martial Arts Center from 1995-2007!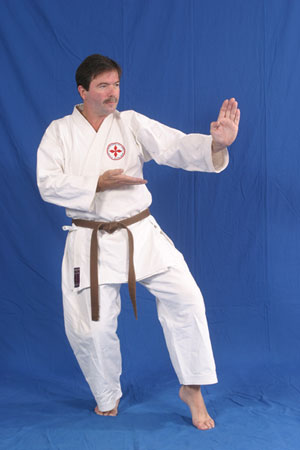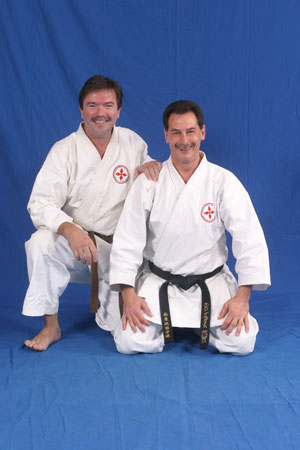 June 2010
Photos of the 2010 Embu Taikai in February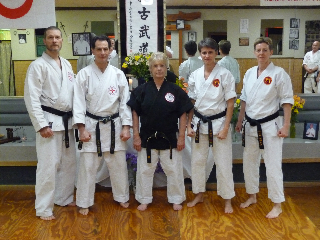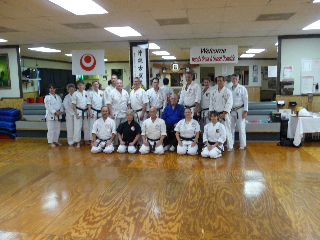 May 2010
Group photo from the March 13 Karate Seminar at CMAC: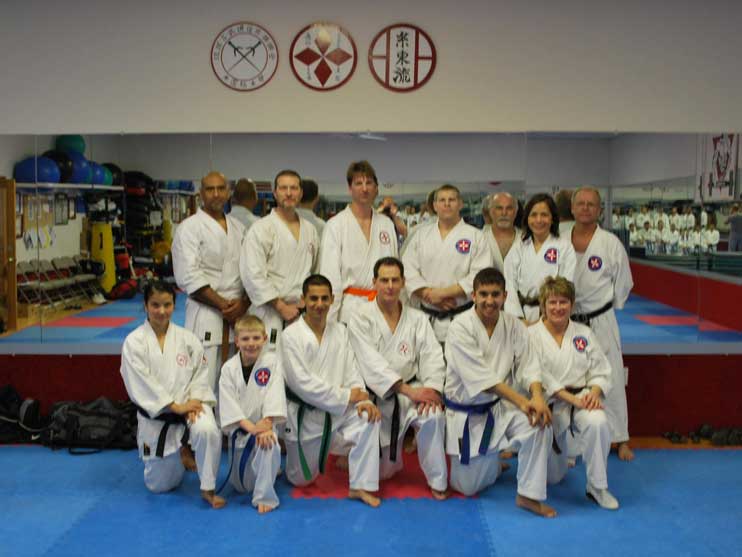 April 2010
While visiting Hawaii, Sensei Dave Henshall had the opportunity to train with 2 time world champion Sensei George Kotaka!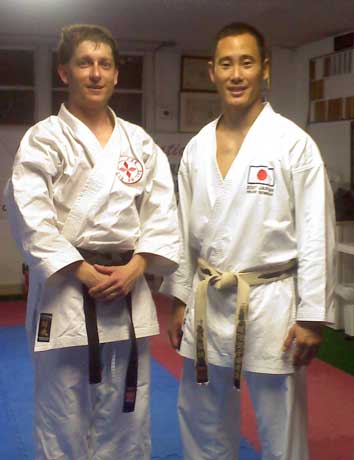 February 27, 2010
News from Bill: He says they have been truly blessed and that he cannot believe the generosity of all the people who have helped. He says that they have plenty right now and still have to go through a lot of things! Bill is a financial consultant and had his office at home! He is in great need of a up-to-date computer for business, printer, office supplies, etc.! Bill will let us know about any other specific things they might need.

Also check out our new, public video page where you can see all the videos from our YouTube Channel
February 26, 2010
Carolina Martial Arts Center now has a YouTube Channel where you can view video clips of Sensei Gurganus performing various katas and and some kumite highlights. Be sure to subscribe to our channel, so you'll be notified when we add new videos.
February 18, 2010
CMAC has a Google group. Sign up to receive emails with updates and notifications from Sensei.
February 18, 2010
Bill Harmon and his family lost their home in a fire on Tuesday, Feb 16. Bill's son Trevor was at home and escaped with burns on his hands and feet. They lost four dogs to the fire. Bill is a black belt at CMAC and a good friend of Sensei Kevin, so we're appealing to all members of the dojo to help them through this difficult time with donations of clothing, furniture, toiletries, gift certificates and money.

For more information, please see the appeal from Sensei Kevin. Thanks for your help!
November 21, 2009
Congratulations to all the students who completed the belt test on Nov. 21
Photo Album
November 28, 2009
Kevin's father, James P. Gurganus, died Wednesday, November 25. The funeral will be held on Sunday, Nov. 29 at 2:00 at First Christian Church in Plymouth, NC. Flowers were sent on behalf of all Kevin's students. Our condolences to Kevin and his family as we keep them in our thoughts and prayers.

UPDATE: To view James Gurganus' obiturary or to sign the guest book: www.maitlandfuneralhome.com
November 21, 2009
Congratulations to all the students who completed the belt test on Nov. 21
Photo Album
October 2009
CMAC black belts receive awards at International Martial Arts Symposium in October! Debbera Carson received the "SENSEI OF MERIT" and the "BUDO SPIRIT" awards! Bill Harmon received the "SENSEI OF MERIT" award. Awards are given based on outstanding performance and service to the martial arts! Bill and Debbera were nomiated by other instructors and black belts in the martial arts community. Congratulations Bill and Debbera!!!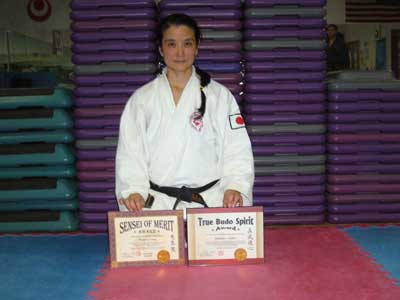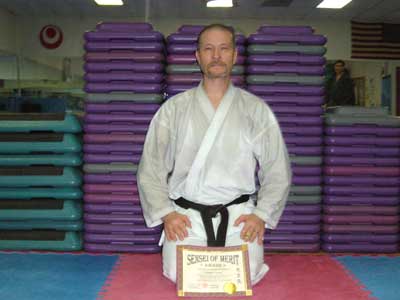 29 October 2009
The CMAC video page is now available to members of the dojo.
17 October 2009
Congratulations to all who completed the test on Oct. 17.
Check out the pictures of the Test: Album a and Album b
10 October 2009
Kobudo seminar with Kyoshi Yoshiko Dometrich! Sai basics, applications and Kata review. Kyoshi Dometrich covered Chikinshitahaku No Sai, Chatanyara No Sai and Hamahiga No Sai.
Check out the pictures of the Seminar.
10 October 2009
Thank you Kaitlyn, Alex and Cameron for your help with our letter of the week demo for Mrs. Dymon's kindergarten class at Little River Elemnetary School! K is for Karate Kids!
Check out the pictures of the demo.

---
August 2009
Alzada, Greg, Andrew, and Douglas Harmon visited from Chicago in early August to train! Greg and Alzada are original students of CMAC from its beginning. Greg is now a Nidan in Shorin-ryu under Tadashi Yamashita's organization.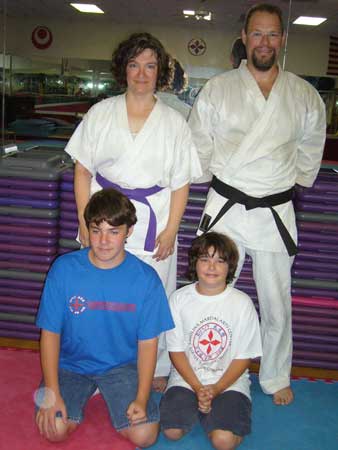 Navin Mahabir visited for eight weeks! It was great to have Navin in town. He was his usual energetic self. He trained and helped with classes whenever he could. He is looking at starting a dojo in Oregon in the near future! He also got to spend two days with Kyoshi Yoshiko Dometrich on his return home.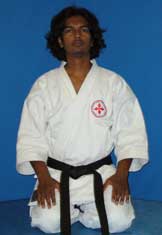 15 August 2009 Belt test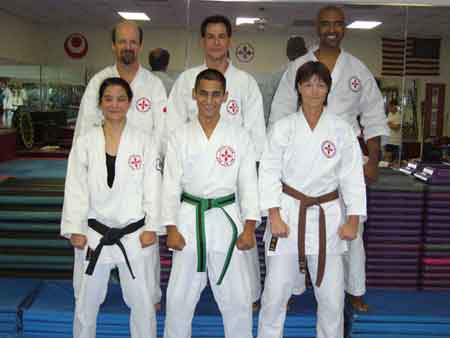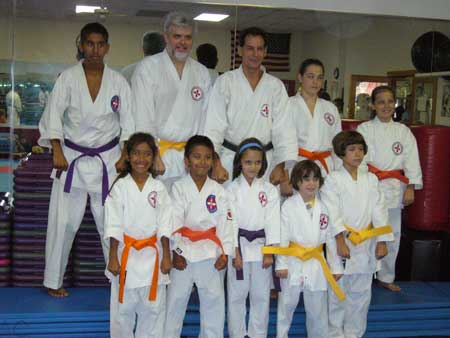 ---

Two Demonstrations from 11 Nov 06 Test. Chatan Yara no Sai Bill Harmon Chatan Yara Kusanky Debra Carson



Congratulations:


Aug 19th Team CMAC tourney results

Newest belt photos are up on this page.

New Photos Page, linked from left.



Check back often for updates!

<! News Ends Here> <! Start Here>
<! Start Red Dojo News Banner>

Dojo News Photos

<!End Red Banner> <! Start Gray Banner Here> <! New Belt test>

11 November 06 Belt test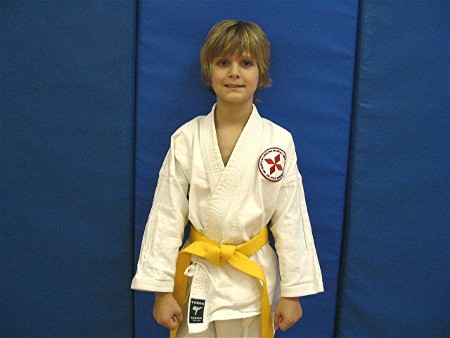 Daniel Green earns his Yellow belt.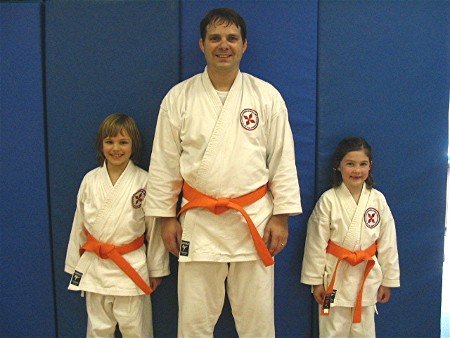 Michele Zimmerman, Jeff Greene, & Joey Uzarski earn their Orange belts.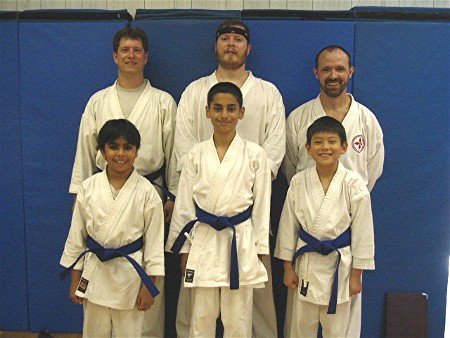 Abu Swaminathan, Eluis Schudel, Justin Ching
Trey Huges, Stephen Huges, & Darren Womble earn their Blue Belts.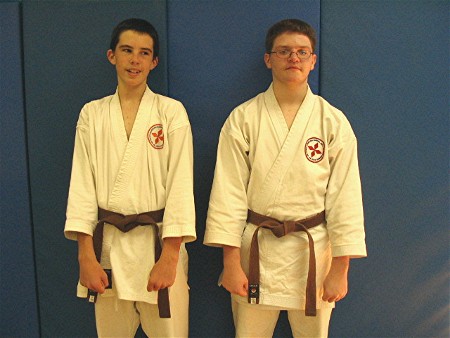 Tyler Hanson earns his brown belt, Josh Wilkerson earns Nikyu 2nd degree Brown

<! New Belt test>

24 June 06 Belt test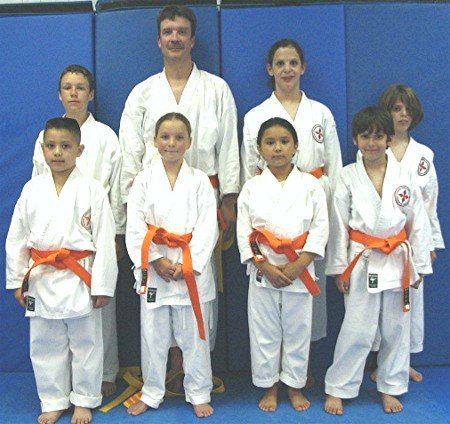 Rodolfo Hernandez, Robin Lowe-Skillern, Loren Vargas-Sanchez, Tom Zauberman,
Zan Lowe-Skillern, Peter Skillern, Maya Zauberman, and Jonathan Zauberman,
earn their Gold Belts.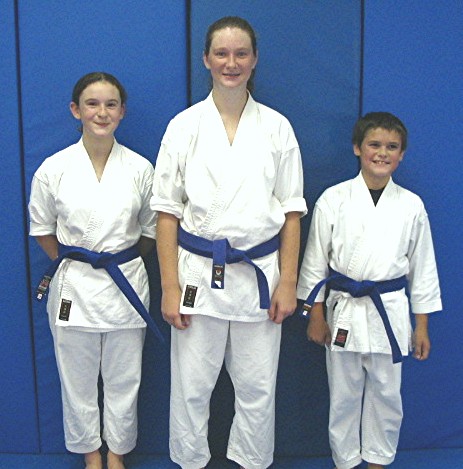 Bailey Hughs, Erin Hughs, Bradley Hughs
earn their Blue Belts.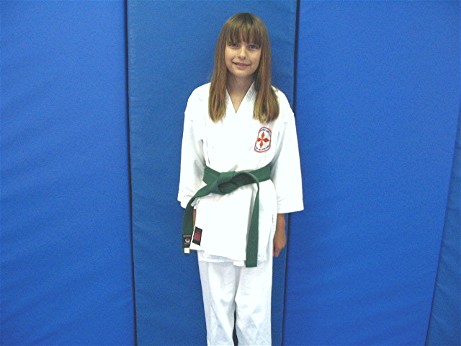 Emma Bogerd earns her Green Belt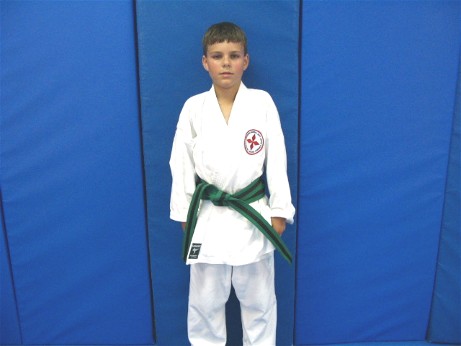 Matt Gouchoe-Hanas earns his Green with strip Belt.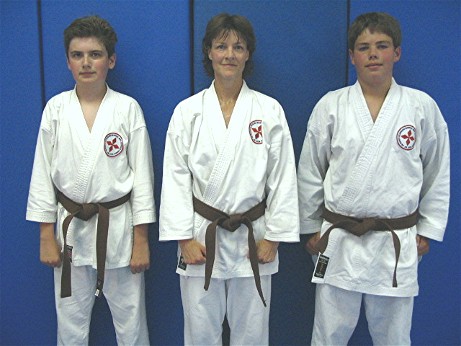 Alex Gilligan, Sue Gouchoe, and Sam Sykes earn their Brown Belts.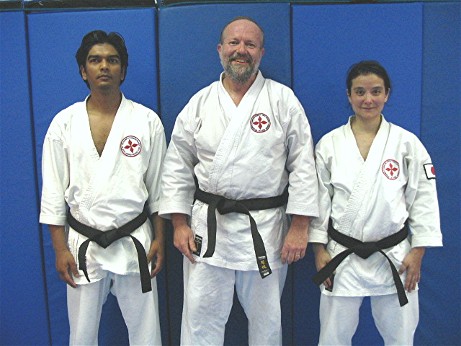 Navin Mahabir, Richard Clarke, and Debbera Carson earn their Black Belts.

<! Start Gray Banner Here>
Spring Seminar in Greenville