Kevin Gurganus(Kyoshi) – Chief Instructor
7th Dan – Motobu-ha  Shito-ryu, 5th Dan – Ryukyu Kobudo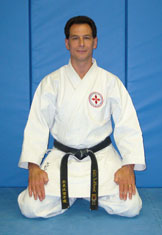 Shihan Kevin Gurganus is the founder and chief instructor of Carolina Martial Arts Center. He began training in 1974  and he is a direct student of Kyoshi Tola Lewis, Soke Shogo Kuniba and Kyoshi Yoshiko Dometrich. Mr. Gurganus is a member of Kuniba Kai    International, National Karate Jujitsu Union and Ryukyu Kobudo Hozon Shinkokai.
Mr. Gurganus is employed in the Durham County Public School System. He works in the Exceptional Childrens program working with children with developmental disabilities. He has worked in the AU (autism) program and presently serves as a Language Facilitator in the Deaf/Hard of Hearing program. He also holds a B.S. in Health and Physical Education.
Mr. Gurganus is a National Champion in the USA-NKF and the AAU. He is known as an all around competitor, competing in kumite, kata, and kobudo (long and short).  He is also a sought after seminar/clinic instructor and referee.
Bill Harmon(Dai Shihan) – Head Instructor
4th Dan in Shito-Ryu karate-do, 2nd Dan in Ryu Kyu Kobudo and ranking in Hakko Ryu Juijitsu.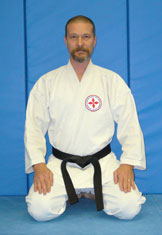 Bill Harmon began his martial arts studies in 1996 at CMAC.
He is a member of  Kuniba Kai International, National Martial Arts Association, Ryu Kyu Kobudo Hozon Shinkokai.
He is an active regional and national competitor in USA-NKF and AAU in kumite, kobudo and kata.
Bill is an independent financial consultant, is married to Cyndi Swanson with a family of five children.
Dave Henshall(Dai Shihan) – Head Instructor
4th Dan in Shito-ryu Karate-do and 1st Dan in Ryukyu Kobudo.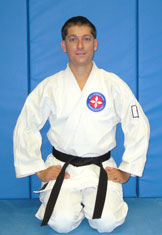 Dave Henshall started training in May of '95 in Chidokwan style karate in NY, for about a year. He has been training in Shito-ryu Karatedo under Shihan Kevin Gurganus since February '97. He began training in kobudo in September of '97, and has earned a rank of Nikyu in Ryukyu Kobudo Hozon Shinkokai under Kyoshi Devorah Dometrich.
He has attended numerous camps and seminars in karate, kobudo, and jiujitsu and has competed in both regional and national NKF tournaments as well as other regional tournaments.
David currently teaches a small group of children in his home dojo, Raleigh Martial Arts Center.
Debbera Carson(Renshi) – Head Instructor
4th Dan Shito-ryu Karate-do, 4th Dan Shuri-te Jiujitsu, 1st Dan Ryukyu Kobudo.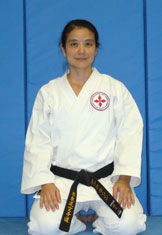 "I started training with Shihan Kevin Gurganus at CMAC in 1996. I chose CMAC from looking in the yellow pages because the ad said the school taught traditional Okinawan karate and that it was a non-commercial atmosphere. So I just got lucky and ended up in what turned out to be a great martial arts school with a great teacher."
Debbera teaches Spanish at North Carolina State University.
James Walker
2nd Dan Shito-ryu Karatedo,  green belt in Hakko-ryu Jiujitsu.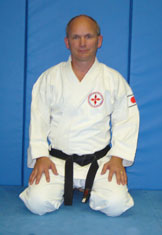 James Walker began training in 1992. He has trained exclusively with Shihan Gurganus in Shito-ryu Katatedo. Studied Hakko-ryu Jiujitsu with Hanshi Lemuel Stroud, Shihans Clayton Tucker, LD Tomlinson, and Gurganus since 1993. He has attended numerous camps and seminars in karate and jiujitsu. James currently lives and trains in California .
Navin Mahabir
1st Dan Shito-ryu Karate-do, 1st Dan Shotokan, Sankyu in Ryukyu Kobudo.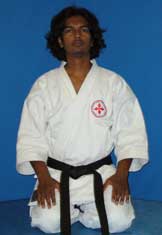 "For many years I've been able to train with a lot of different instructors through seminars, and visit and observe schools all over when I've traveled. Sensei Gurganus' combination of positive attitude, well-roundedness, skill, dedication, ability to continue learning, and ability to apply the martial arts to the real world is unmatched. I've just moved, and trying to find any one instructor or school which equals what I had at Carolina Martial Arts Center is impossible."
Navin was fortunate for a couple of years to be able to train in the Cheng Man-ch'ing school of the Yang style of Tai Chi with Howard Anderson in Durham.  Navin currently lives, trains and teaches in Whitefish, Montana.